Happy Friday Fashion Friends:)
Do you like the New Look Of My Blog?
I think it's the perfect combination of Cute and Lovely.
One day as I was stumbling through blog-land I came across Candace from
I e-mailed her because she and I are both named Candace spelled the same.
She's the first Candace I've met who has the same spelling as me:)
So began our little friendship.
After exploring her blog I found out about her Mad Blog Customization Skills.
She is AMAZING! I just e-mailed her my ideas and she went to work
creating the Loveliness you see here today. I even got a new Button out of the deal!
Her prices are FANTASTIC! Her CREATIVITY is FABULOUS!
If you're in the Market for a Blog Make-Over..or a New Button
She's Your Girl!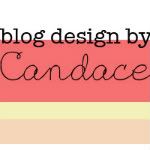 I hope You all have an AMAZING week-end:) Stay Fashionable! Love,Candy